I am writing this blog to cover my process of designing a yet to be built bicycle, which may end up being either a production model or custom bicycle. The type of bicycle I am hoping to put together will have the following criteria: relatively fast, light, attractive and above all things functional . I feel that a sportif or sport touring type bicycle will fit this bill well. A sportif is somewhere in between a road bike and a randonneur, which is exactly the type of bicycle I feel will fill the gap I currently have in my bicycle roster. To start things off I will post some photos and objective views of currently available sportif type bicycles that I am hoping to draw inspiration from.
The first bike up is the Rivendell Roadeo.
I really like this bicycle, but there is one minor feature that detures me
from it. The feature I speak of or lack there of are down tube shifter bosses.
When Rivendell introduced this bike they were trying reach out to cyclist
who aren't they're usual clientele, but at the same time they stuck with
their core features. Those features include a lugged, steel frame
(of course) with great geometry, plenty of room for larger tire sizes and
fenders and a number of useful braze-ons. The lack of down tube shifter
braze-ons, which were simply (replaced with cable stops) makes perfect
sense as most Rivendell owners seem to prefer bar-end shifters, as well,
the carbon converts they are trying to intice with this bicycle mainly use
brifters (all in one brake and shifter). I feel pretty adamant about using
down tube shifter on this bicycle, as I have picked up some quite nice ones
that I will discuss in a future post.
I have seen a photo of a Rodeo with downtube shifter, but I have not had
any dialogue as of yet with Rivendell to see if this is a possible feature
or if this was simply a prototype. Other huge pluses about this bike are a
great paint job and the fact that it is manufactured in the USA by
Waterford in Wisconsin.
*I have since read on this roadeo owner's blog (xo-1.org) that "
I had the D/T shifter mounts added by Joe Bell during the custom paint process." Too bad this is not an option on this bike!*
above; A Rivendell Roadeo with custom down tube shifter braze-ons. The owner of this bike had them added before getting a custom paint job by Joe Bell.
Bike number two, the Ebisu Road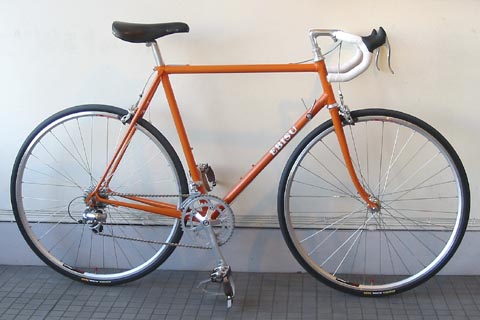 The Ebisu Road model is another bike that I admire greatly. It shares a
lot of features with the Roadeo and even has down tube shifter bosses. Where
it differs is mainly in its frame geometry and lack of braze-ons, which are actually available, but at an extra cost. If you compare the photo of the Ebisu with the Rivendell, you can see a nearly level top tube and a slightly shorter rear chain stay. The headtube angle is also sharper (only a 1 degree variance), making for a more "aggressive" geometry. Aggressive geometry can lead to a more twitchy steering response, but this can be made up for by using a wider tire and an appropriate headset, both of which I intend to use. One other note regarding twitchy steering is that I intend on only loading the rear end of that bicycle which has little to no bearing on the steering as far as I have experienced.
Lastly, but not least, the Pashley Clubman Country
This bicycle again is very similar to the previous two bicycles discussed, but the main feature is that it is actually made from Reynolds 531 tubing. Last I checked this tubing has been discontinued for years, although it is sometimes available on the web. That rather insignificant difference aside, this bike is also designed to be used with centre-pull brakes, which is made evident by the rear brake cable stop. I was very much hoping to incorporate these style of brakes
into the design of my sportif, but depending on whether I decide to go production or custom, I'd love for them to be of the braze-on variety.
Similar to both of the above bicycles, this bike includes a lugged steel construction and allowances for wide tires and fenders. This bicycle appears to share a similar more laid back geometry to the Rivendell as well as most of it's braze-on features, but I cannot confirm this for sure as Pashley does not post such details on their website.
The next step in designing this bicycle will be my selection of components...